Current backlog is 8-10 weeks. Check the status of your piece here: https://www.stereo-lab.com/status/
Stereo Lab is located at 4538 Indianola Ave. in Columbus, Ohio. We have been working on vintage gear since 1996 at this location and have a heritage going back to the Stereo Lab retail stores of the '70's and '80's .
We repair vintage pre-1990 turntables, receivers, amps, open reel decks, cassette decks and 8 tracks. We have extensive antique and tube radio repair and restoration experience and we repair and restore console stereos.
Be sure to visit our new showroom at 4538 Indianola Ave. in Columbus, Ohio. The new showroom is full of new and used gear for sale in an environment meant for listening and enjoying before you buy. Come check us out today.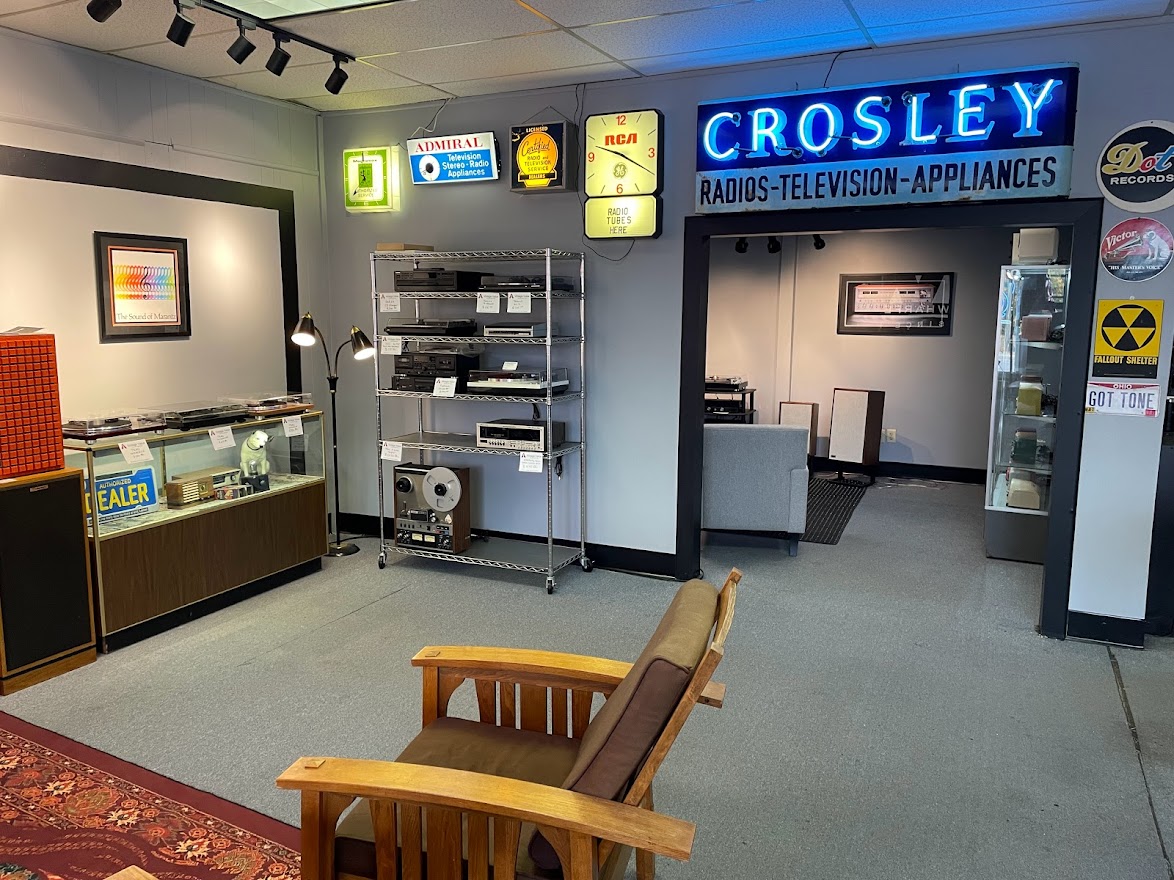 We are Central Ohio's ONLY Wharfedale speaker dealer, come experience the modern Wharfedale Legacy line at our shop in Columbus Ohio.
Our specialties include repair and restoration of antique radio, console stereo, and Pioneer open reel decks. We even repair the mid century German sets such as Grundig and Emud.
Stereo Lab is your source for turntable repairs, maintenance, needles and cartridges. We are a Grado, Audio Technica and an Ortofon dealer. Bring in your turntable for a free turntable tune up! (Includes belt inspection, balance, speed inspection and set up).
We also sell new gear, exceptional newer stereo equipment that you can listen to before you buy. We strive to provide an authentic stereo store experience, with helpful, knowledgeable sales people who love this stuff as much as you do. Brands we carry include: Wharfedale, LEAK, TEAC, KLH, Mobile Fidelity Sound Labs, Tascam and more.
We are also Columbus Speaker Co. since 1954! We repair speakers with new surrounds, crossover upgrades and wire repairs. We are no longer re-coning speakers unless we know up front we can get the parts. (Please be advised, if you have a large PA speaker it needs to be removed from the case when you bring it in).
We accept items for recycling, bring us your unwanted electronic items. We will harvest parts from it and then send the item to a qualified recycling center. Keep the environment healthy, help keep vintage electronics running.
All sales and repairs carry a 90 day warranty. See details here about our warranty.
Check on the status of your piece: https://www.stereo-lab.com/status/
As of 07/25/23 we have a 8-10 week backlog.
Open 11:30 – 6PM Tuesday through Friday, 10-3 on Saturday. Closed Sunday and Monday.
Contact us today.
4532 Indianola, Ave. Columbus, Ohio 43214
(614) 268-5500